Today there are three pieces of amazing things:
1. Tilted Tower's been four years since it was originally added to the game's first map. It first appeared in Fortnite all the way back in Chapter 1 Season 2 of the battle royale. The location was always a wildly popular drop as it contained the most rooms, item chests, windows, and high-rise buildings.
Epic Games toyed with destroying Tilted Towers during Fortnite's fourth season meteor event - but instead teased fans by flattening only a single building. The location finally met its match in May 2019, however, when it was definitively detonated by the island's erupting volcano. And today's v19.10 update sees the return of city-like locations. So will it disappear again in the later stage, and what event will it disappear due to? What fancy goods have you ever found here?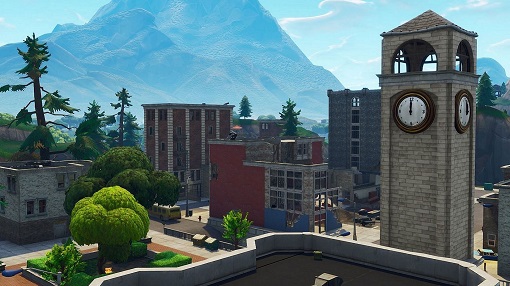 2. An adorable monster called Klombo visit Fortnite!
It looks like something ripped from How to Train Your Dragon, developer Epic says they're mostly mild, and they seem to add a new way to get around the map. "Raise their tails to the blowholes in their heads, then fire up a long distance to escape tricky situations," Epic wrote in a blog post. There's also a new item, a colorful berry, that can be used to Feed them and lure them on the map.
Then you may find these topic like: Can you kill Klombo? How can I find it?From Youtube vlogger gattu, there will be a scan equipment help you to find nearest Klombo. The funnier thing is he organized a battle between Klombo and Rock! Honestly, compared to the mad Klombo, I prefer the normal cute one !
3. Besides the gameplay additions, Epic also announced a new collaboration with street artist Kaws — who previously designed a character for the game — and London-based gallery Serpentine. The two are launching a virtual version of Kaws' "New Fiction" exhibition, which will also be featured at the IRL gallery. The virtual recreation was built by BeyondCreative and Alliance Studios inside of Fortnite Creative, and will be available to check out from January 18th at 10 AM ET until January 25th.